​BorgWarner. Perspective technologies for our vehicles.
BorgWarner produces powertrain solutions. It develops powertrain technologies that improve fuel economy, emissions, and performance. It operates in two groups. Its Engine Group develops air management strategies and products to optimize engines for fuel efficiency, reduced emissions, and enhanced performance, and its Drivetrain Group develops control systems and strategies for all types of torque management.

1) Indicators analysis

BorgWarner has a market cap of $9.4 billion. Year-to-date, it has fallen quarter-over-quarter. After the 3Q15 earnings report, the company's stocks fell by 8.7% to close at $41.57 per share as of October 29, 2015, with a fall in revenue of 7.3% in 3Q15.

Thus, the main reason for a drop in prices is the poor financial reporting. But it should be noted that the market perceived financial results too pessimistic. For example comparison to last year gave us the following results:5,7% drop in revenue compared to last years, the 4,4% fall of EPS and 7.3% sales drop, while the shares have lost more than 20% of the cost. Therefore, it is obvious that such a strong price failure has speculative nature.
| | | | |
| --- | --- | --- | --- |
| | Company | Industry | Sector |
| P/E Ratio | 15,28 | 26,17 | 24,51 |
| Sales (MRQ) vs Qtr. 1 Yr. Ago | -7,29 | 8,45 | -1,02 |
| Return on Assets | 8,8 | 4,9 | 7,02 |
| Return on Investment | 11,79 | 7,23 | 11,64 |

When compared with major competitors, Borg Warner looks quite attractive.The ratio of debt to equity equals 48%, which is a good indicator among companies in the sector. Problems with sales concluded mainly in the scandal with Volkswagen company (as a partner of BWA) as well as the drop in demand from China. The company has high return as on equity as on investment exceeding the competitors figure by 43% and 69%, respectively. In this way analisys allows us to conclude that the risk of lows renovation in the absence of structural problems is small.

2) News background

BorgWarner supplies Eco-Launch™ stop/start accumulator technology and multi-segment wet friction plates for the new 8-speed rear-wheel drive automatic transmission (8L45) from General Motors. Improving fuel economy up to 5 percent compared with similar 6-speed automatic transmissions, the 8L45 transmission will debut on the 2016 Cadillac CT6 and will also drive the 2016 Cadillac CTS and ATS. BorgWarner produces its mini direct-acting variable force solenoid (VFS) for the 2016 Chevrolet Volt, Chevrolet Malibu hybrid and Cadillac ELR as well as future General Motors (GM) vehicle applications powered by the same transmission. They increase the client portfolio.

While Volkswagen accounts for 16 percent of BorgWarner revenue, the diesel VW engines involved in the scandal account for "less than 0.5 percent" of BorgWarner revenue. The company also reported strong operating profit margin in the third quarter, at 13.3 percent from 12.5 percent a year earlier. BorgWarner reported net profit of $157 million in the quarter, or 70 cents per share, compared with $167 million, or 73 cents per share, a year earlier. Despite the problems in China and problems of key client yet we see that customers profit fell slightly.Auto parts maker BorgWarner Inc (BWA.N) agreed to buy Remy International Inc. REMY.O, a maker of electric and hybrid motors, for about $950 million to better compete in the fast-growing market for electric and hybrid vehicles. "The hybrid motor portfolio (Remy has the largest hybrid motor production and testing facility in North America) should help BorgWarner benefit from the progression of hybrid technologies.

Since the merger took place, it has not yet passed the integration Remy International Inc.. But we can say that if all goes spanning more or less successfully that the merger will have a positive impact on the business of Borg Warner in the long term.

3) Technical analysis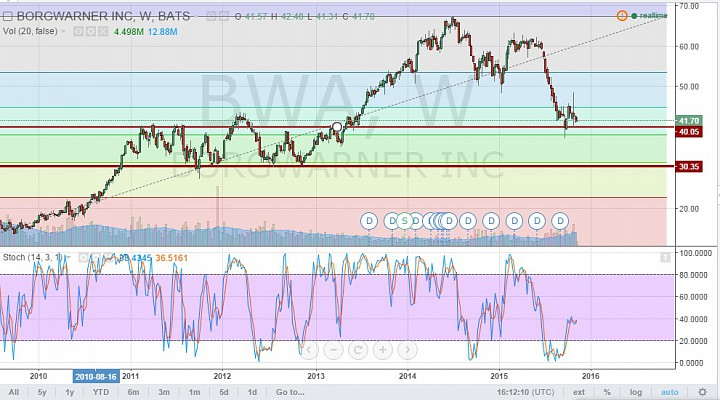 The results of technical analysis is probably the main reason for the recommendation of BWA. At this moment we have a very strong resistance level near $ 40 price. Technically, because of oversold, the company has a high probability of movement to the price $ 51, even without improving market conditions.

Moreover, at moderately positive news background we have all the chances of recurrence highs around $ 68. When negative circumstances shereholders will have additional insurance as a strong resistance level at $ 30, it is unlikely to break through.

4) Conclusion

Finally, we see a chance to realize about 22% (with sales at $ 51) in short term and 63% (with sales at $ 68). in long term. The main risk is the worsening market conditions, but it is almost leveled by strong technical resistance. That makes the deal very attractive.